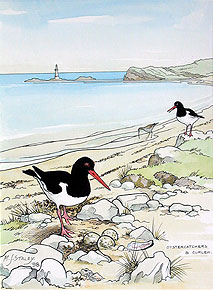 The Argyll Bird Club was established in 1985. Its main role is to generate and encourage an interest in wild birds and their habitats in Argyll; an area of outstanding natural beauty and biological diversity. Mainland Argyll and its islands comprise an important region for bird conservation and biodiversity, with populations of several species and their habitats being of national and international importance.
The club endeavours to provide a friendly and sociable forum for members, of all ages, to meet and enjoy their common interest. This in itself provides a challenge as the human population of Argyll is relatively small and widely dispersed. To achieve this, the club has developed a combination of full-day indoor meetings each spring and autumn, regular (normally monthly) field trips, and publications for the benefit of its members and to enhance the profile of the club. A substantial number of members are not resident in Argyll; some even live overseas! New members are welcome.
The club is recognised by the Inland Revenue as a charity (Scottish Charity Number SC 008782).