Argyll Swift Survey 2020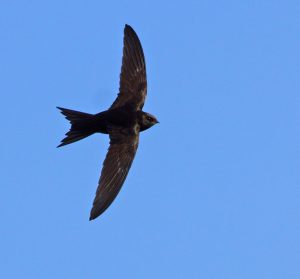 Those taking part in this survey should only do so within the current Government Advice relating to Coronavirus.
Swifts are slightly larger than Swallows and have an all dark plumage with only a short forked tail. They feed on flying insects and spend most of their life in the air (including when they sleep), usually coming down to earth to breed. They are fast fliers often chasing one another over buildings when they give a screeching call. Please be certain that the birds you are recording are Swifts.
Swifts arrive back in Argyll in early May and breed in some of the towns, villages and other buildings in Argyll. They spend around three months in Argyll, departing in early – mid August, to their wintering grounds in Africa. The British Trust for Ornithology's Breeding Bird Survey indicates that the population of Swifts in Scotland has declined by around 60 percent since 1995. A similar decline has taken place in England and Wales. The reasons for this decline are not fully known but are believed to be related to changes in insect numbers and a lack of nesting sites as buildings are modernized.
Argyll is at the north-western limit of the world range of Swifts. Their distribution and numbers in Argyll is not well known and the purpose of the Argyll Bird Club Survey is to try to find out the size of the breeding population and where they remain.
The survey has two parts; to count birds in different breeding areas and to try to locate nest sites.
Counting low-flying swifts. This should be done in the evening, during the period of peak Swift activity between 1930 and 2130hrs, timed to finish before dusk. It is best to survey in dry still conditions. Counts should be done from your home or during exercise periods (as permitted within the current Government guidelines). You can count any time between mid-May and early August, and if you can do multiple counts, two counts per month would be helpful.
Low-flying means within 20 metres of rooftops or within 50 metres of the ground. Do not record high flying swifts. Behaviours to look out for and note in comments sections: —Screaming calls
– Arcs: As soon as a low flying party is seen, watch the flight path carefully and identify any parts of a building (usually the lower edge of a roof/gable) where the party comes within 1-2 metres. This flying habit is called an arc. In the comments section, you can note which part of the building the swifts fly close to (eg gable). If screaming birds continue low flying activity (within a few minutes), continue watching to record a second arc.
– Bangers: Swifts without nests fly up to possible nest holes and 'bang' or touch the place with their wings. They are investigating the availability of nest places. Sometimes they do this alone and sometimes a group of swifts will fly past and several of them will `bang'. If the nest is occupied they will be seen off with loud screams from the residents
Nesting Swifts, Kilmichael Glassary (photos: Annette Anderton)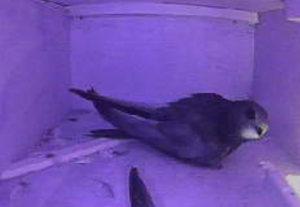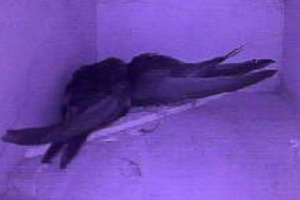 Please complete your findings on the ABC Swift Low-flying form (click)
2    Nesting Swifts: If you find, or know, the site of a Swift nest please complete the ABC Swift Nesting form (click)
Swifts are likely to be nesting or flying around private properties. Please use your discretion when carrying out your surveys and avoid any behaviour that could be seen as intruding on people's privacy. Do not use binoculars! Do pre-emptively speak to people about what you are doing and why. If people are interested, please suggest they find out more by looking on the Argyll Bird Club swift survey website.
Please at all times abide by the current Government advice on Coronavirus.
Breeding Bird Survey
We are encouraging Argyll Bird Club members to take part in BTO Breeding Bird Survey fieldwork in Argyll. Maps showing the squares available for survey work are shown below. If you are interested in taking part in this interesting and worthwhile survey please contact Nigel Scriven e-mail:
The BTO would be very grateful for help surveying BBS squares in Argyll in order to improve our bird population trend estimates in Scotland. These maps show the locations of available BBS squares in the area (in red), and detailed OS maps can be seen by going to http://www.geograph.org.uk/showmap.php?gridref=NR7770  and replacing the grid reference in the web address with the grid reference of interest. Surveying a BBS square involves just two early-morning visits during the breeding season to count all birds seen or heard while walking around the square. More information, including the full instructions, can be found on the BBS website at www.bto.org/bbs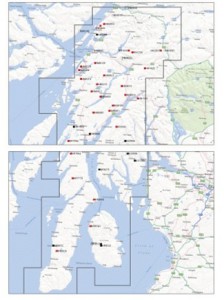 The Wetland Bird Survey (WeBS)
This is the BTO scheme which monitors non-breeding waterbirds in the UK. The principal aims of WeBS are to identify population sizes, determine trends in numbers and distribution and to identify important sites for waterbirds. The monthly counts concentrate on the months September – March but some sites are counted all through the year.
Mainland Argyll counts are currently carried out by: Jan Brown/Julia Randall (Loch Craignish),  Robert Devine (Loch Long: Ardentinny-Strone Point), Jim Dickson (Loch Crinan), , Robin Harvey (Dunstaffnage Bay, Loch Creran), David Jardine (Loch Ederline, Loch Gilp, Loch Leathan), Barbara McMillan (West Loch Tarbert), Ian McPherson (Loch Tulla), George Newall (Holy Loch) and Katie Pendreigh (Sound of Gigha).
We are always keen to recruit new counters and are looking for coverage of several sites on Mull, Campbeltown Loch and Loch Feochan (nr. Oban) in particular, although we can usually find a site near you. If you think you might be interested please contact: Mainland Argyll & Mull: Nigel Scriven email: Islay, Jura & Colonsay: David Wood email: Tiree & Coll: John Bowler email:
Mar 2017 WeBS counts Feb 2017 WeBS counts Jan 2017 WeBS counts Dec 2016 WeBS counts Nov 2016 WeBS counts Oct 2016 WeBS counts Sep 2016 WeBS counts Aug 2016 WeBS counts Jul 2016 WeBS counts June 2016 WeBS counts May 2016 WeBS counts Apr 2016 WeBS counts Mar 2016 WeBS counts 03.04 Feb 2016 WeBS counts 09.03 Jan 2016 WeBS counts 20.01