Summary
This well-supported survey in 2021 found Nuthatches in 109 one-km squares (40 ten-km squares) and the population is estimated at around 130 -150 pairs, which is expanding rapidly.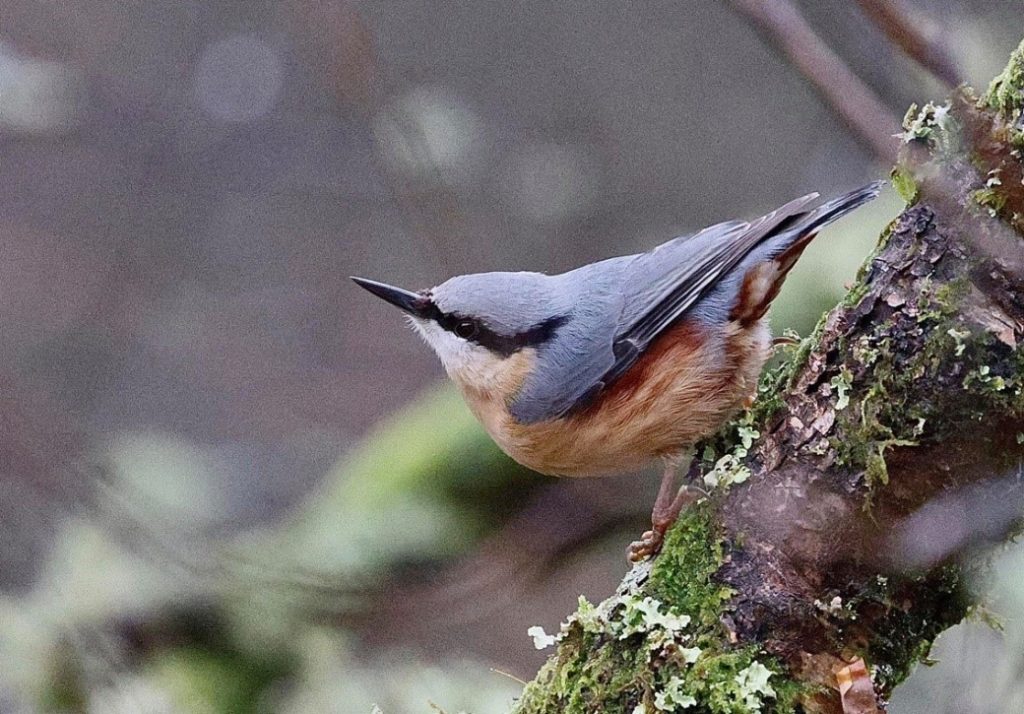 Nuthatch, Benmore Gardens, Argyll, December 2020 © Andrew McFarlane
Thanks!
This survey would not have been possible with the support of the many individuals who provided records: Argyll Coastal Trust, M Adams, J Allan, P Banham, E Benson, L Brag, R Brittain-Dodds, R Broad, D Brooks, S Burden, G Campbell, S Campbell, S Carter, M Chattwood, C Cowley, A Craven, P Creech, M Currie, B Cuthbert, E Dickson, J Dickson, K Dods, J Exley, A Floyd, A Ford, D Fountaine, V Fraser, K Geldard, I Gibson, J Gibson, Linda Gibson, Lynsey Gibson, J Gonartek, G Hall, S Hall, N Hammatt, J Haworth, A Heaton, M Heggarty, M Hudson, C Hunt, M Hunter, D Jardine, J Jardine, M John, K Johnson, M Kabatek, A Keay, A Lavelle, J Lehmann, J Livingstone, E Love, I MacFadyen, A Macfarlane, A McGregor, N McGougan, J McInally, L McLennan, D MacWhannell, I Madden, C Maddox, M Malcolm, R Melville, T Melville, E Miles, E Miller, B Mitchell, M Murray, J O'Neill, C Orr, D Owen, V Owen, D Parkinson, M Parnell, D Pearson, F Penman, F Pollard, C Proctor, J Reddaway, C Richards, P Russell, A Saul, L Senior, D Sexton, A Short, R Sing Silver, J Speirs, P Staley, J Sutton, J Taylor, N Tierney, G Toplis, E Vassie, C Verran, P Walkden, C Waterhouse, H Watkins, A Watkiss, H West, I Williams, L Wilson, T Wilson, V Winters, C Woolf, I Wragg. Many thanks to them all
Survey Aims and Methods
As explained in Dickson (2021) the ABC Nuthatch Survey sought to:
– discover the current distribution of Nuthatch in Argyll during the breeding season,
– Confirm the breeding status in as many locations as possible, and
– Estimate the breeding population of Nuthatch in Argyll.
The ABC website, newsletters and club events were used to advertise the survey which was open to members and also the wider public. Social media and local newspapers were used to draw attention of the survey, especially through facebook pages covering wildlife in Argyll.
Participants were asked to record:
– the location of the sighting (including grid reference where possible),
– the activity of the Nuthatch(es) (feeding, singing, defending a territory, at a nest etc.)
A range of reporting mechanisms were used: ABC records spreadsheet, Birdtrack, a dedicated email address and though facebook. These records were collated by the organisers. Some ABC members also undertook 'play-back' surveys where Nuthatch calls are played on a mobile loudspeaker. This was found to be effective in locating territorial Nuthatches by Murray (1991). This approach was in suitable habitat, particularly in outlying areas to try to establish the boundary of the range of Nuthatch in Argyll. Negative records from play-back were also recorded.
Results
Records were received from 46 ten-km squares (there is a total of 126 in Argyll) and from 154 one-km squares. Nuthatches were found in 40 ten-km squares (109 one-km squares) and negative reports were received from 6 ten-km squares (45 one-km squares). (Figure 1). Breeding was confirmed in nine locations.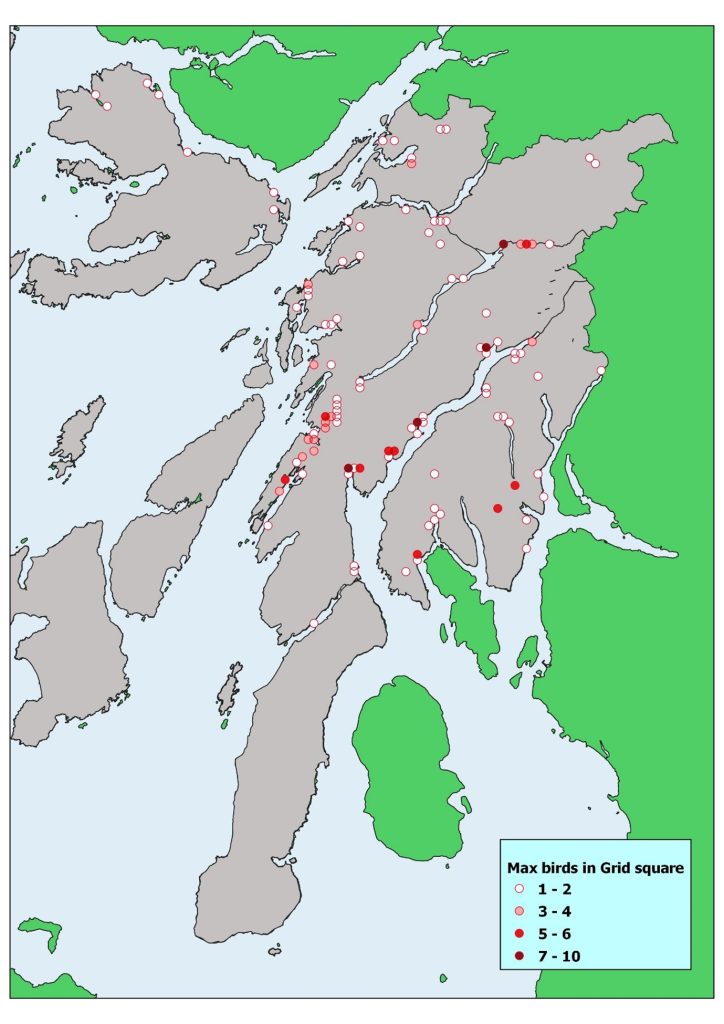 Figure 1. Distribution of Nuthatch records in Argyll, 2021 (ABC Nuthatch Survey).
Most of the occupied sites were on the lower ground along loch shores and close to habitation. At Inveraray five singing males were found in the one-km square around the castle and two in the adjoining square. However, elsewhere most reports were of single males or pairs and occasionally these were in adjoining one-km squares which may have resulted in the same pair being reported from two squares. Accounting for this a minimum of 108 territories were reported during the survey, however, as no records were received from a number of areas where they had been reported previously, it is likely that the number of occupied territories in Argyll in 2021 was around 130 – 150 pairs.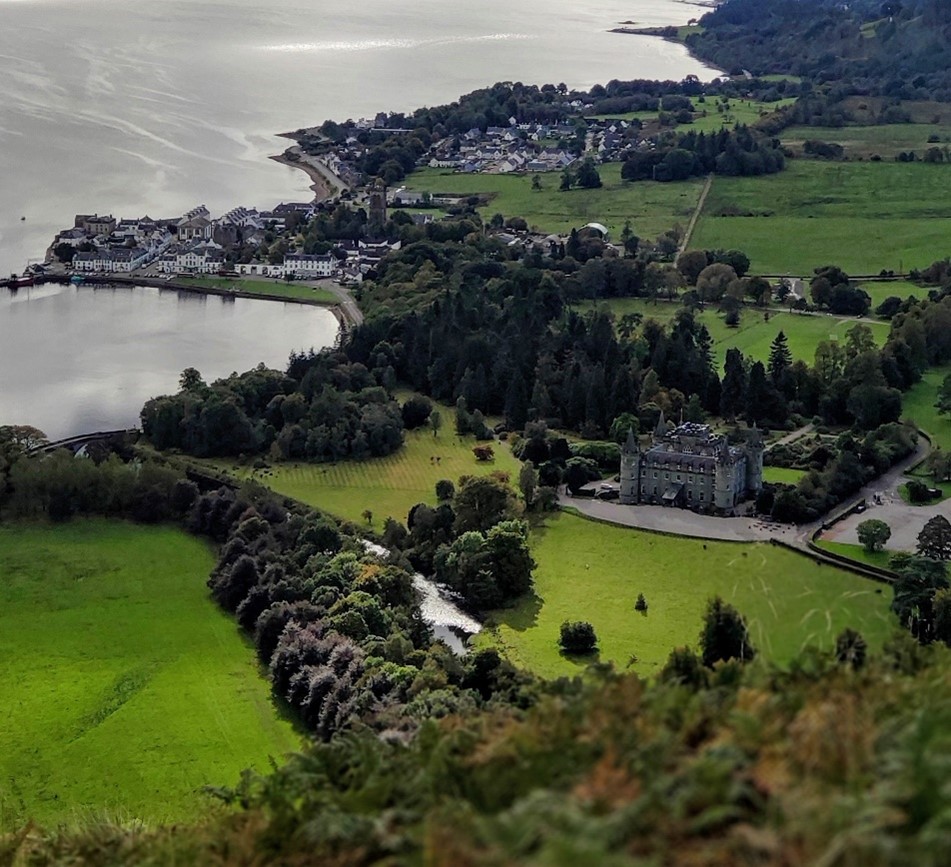 Inveraray Castle Grounds, Argyll, May 2021. This is the site of the failed 19th century introduction of Nuthatches; during the 2021 Survey this site held the highest number of pairs (seven pairs in two one-km squares). © Malcolm Chattwood
The ABC Survey has confirmed that the number of Nuthatches in Argyll (112-150 territories) is greater than previously reported: 20-50 pairs in 2018-19 (McMillan 2019). This increase (c 275%) is similar to that reported on the Glenfalloch estate (240%) between 2018 and 2021 (Cosgrove et al. 2021). It is clear that conditions in recent years on the west coast of Scotland have been very favourable for this species.
The survey found that Nuthatches are well established in Cowal, North Argyll and Mid-Argyll and are establishing populations in North Kintyre and North Mull. They remain absent from South Kintyre, Islay, Jura, Colonsay, West Mull, Coll and Tiree. It remains to be seen how much further they expand within Argyll, as suitable broadleaf habitat in South Kintyre is limited to relatively few sites mainly on the Clyde coast. There is also some suitable woodland on the east coasts of Jura and Islay, around Bridgend (Islay) and also at Colonsay House; any records from these areas will be most welcome.
References
Cosgrove, P., Shields, D. & Anderson, D. 2021. Nuthatch colonisation of Glenfalloch Estate, Loch Lomond and Trossachs National Park. Scottish Birds 41: 317-319.
Dickson, J. M., 2021 The Status of The Nuthatch in Argyll. The Eider, Argyll Bird Club 135: 8-12..
McMillan, B. 2019 Nuthatches in Highland. Highland Bird Report 2018: 163-166.
Murray, R.D. 1991. The first successful breeding of Nuthatch in Scotland. Scottish Bird Report 1989: 51-55.
M. CHATTWOOD, J. M. DICKSON & D.C. JARDINE
A pdf copy of this paper can be downloaded by clicking this link